It's much better than it's hindi remake,
Sunday
!
Sahasra (Charmy) is aspiring playback singer. Suddenly, something happens and one day from her life... just vanish.
What have to it a suspended police officer, Suresh Reddy (Jagapathi Babu), which drinks juice all the time, and a taxi driver, Rajesh (Sashank)?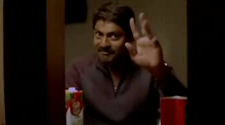 Yaar, it's awesome! What was bad in
Sunday
, here is better and work perfectly!
Charmy is really good. This role ain't glamorous but she was acclaimed by audience. Jagapathi? I want more of him! I drink more juice now in tribute for him:P Poor guy, till the end I was full of hope that he will (spoilers)end up with Sahasra and live happily-ever-after, jurt like in remake but she choose that crappy driver. :((end of spoilers) Sashank was good, just like the rest of cast.
Plot? It's really superb! I was sticked to the action all the time.
And the song are totally marvelous.
Rate - 5- (because of what I said in spoiler:P)
VM - 75%