Bhaskar directed his third movie with RCT in lead. It's his third flick too. As Catholic, I consider Three as God's own number that is perfect so anything that has/is three is ideal.
Is
Orange
so?
I saw it... For Gen? Thanks to Pooja or Hemanth? Telidu. Sonia mostly.
I wanted it to be bad or/and flop. Why? Because 3 hits in a row - it's not good for a guy who just debuted. Same for Karthi. I wish his remake would not fare well. It really cleas your mind up. And another bad movie this year? Doesn't change much, there was Maro Charitra and there was even amazing Vedam so.
I know. My bro's director. I know much more about movie industry than you expect.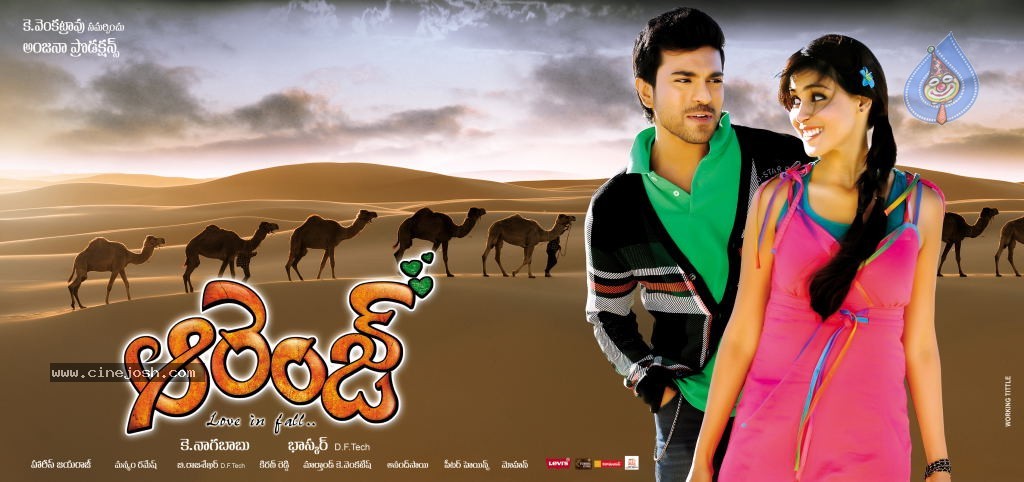 We have our angry hero destroying his very own graffiti. Ye?
That's the answer asked by police officer and this angry young man starts to tell his story. A story of all girls he loved.
The very first thing I liked is this mindblowing, huge cast.
Starting from Pooja's SA, to Madhurima's short apperance, Venella Kishore friend comedy act, Nagendra's returning character, Brahmi Puppy, this amazing guy from
Ashta Chamma
, Prakash Raj, Prabhu, Manjula with husband... Sure that I missed someone, still it's nice to see such well-casted movie, where even little SA makes a difference. Something that I always been missing in movies from AP.
Charan's character is very similar to Siddhu and Krishna. The same rage in them, same stubborn ego and rather unpleasant attitude towards girls. I think Bhaskar could improve this rather than repeating what we already know. He was more like Siddhu, with this strange intention to be different, while being so same.
RCT is just OK. He has his moments, he has his fails. Manages not to be a pain on-screen yet I guess that is another person who could improve. I noticed few frame-to-frame similarities between him and his dad's acting, that's not good too. Find a style on your own, Cherry!
Genelia is cute, Genelia is bubbly, Genelia is looking good in her cotumes. But I miss a depth in her character. Just like it was in Parugu. Hasini was a girl defenitely larger than reel but those two girls are so passable. There was some funky moments, worth while, but I felt her character is still on the same place like it was in the very first scenes till climax. She knew what to do with a guy like this graffiti freak but apert of that she was just making a whole lot of noise than actually anything.
And I pity she wasn't dancing at all.
Second female lead - waste. Haritha's dubbing doesn't sutis her and even the depth in character is not needed, she fails to make a mark.
I liked narration but there was
quite few similarities to the gorgeous High Fidelity - book and the movie.
And Bommarillu, of course.
The ending is funny but it left me wanting more.
And the "journey" that the characters have to went trough is long, confused and? Dull. Quite funny at times, but left me without being content.
In Poland when you argue, for example, in the relationshin, it's normal to part the ways. I think that saying 'we shout cause we love each other' is somehow childlish, because when your favest toy breaks you still want to play with it and don't want to throw it.
Ocean of love? What's that? Some new Pepsi special?
Liked cinematography, dialogues were funny bit sometimes bit over-the-top.
Music? Nice but not genius. Harris scored average album, even reused one of the songs later...
Oola Ulala is my fav track. Defenitely.
Lyrics? Liked that some are in pure Telugu.
Videos are so same and boring! Too much of white extras can be so annoying. And choreography is dissapointing and unlikeable, maybe Allu Arjun inspired it? :P
So. I don't say I didn't enjoyed it or liked. Some missing parts annoyed me but I still consider
Orange
as likeable movie, that's maybe not that fresh like it was supposed to be if you go by ads.
Rate - 4(-)
VM - 75%